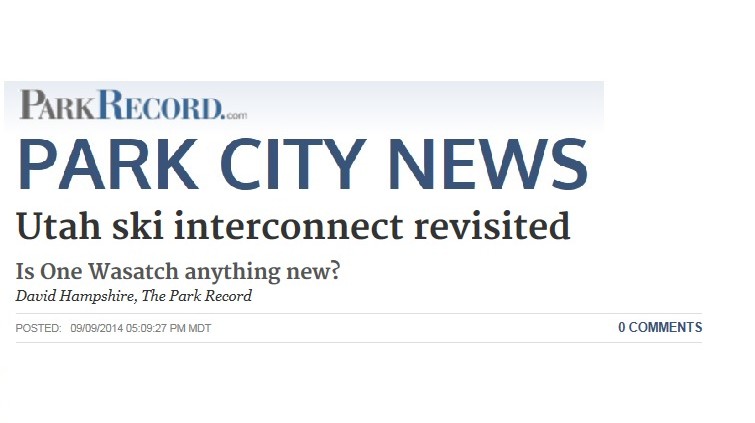 Is ONE Wasatch anything new?
David Hampshire, The Park Record – Posted:   09/09/2014 05:09:27 PM MDT
The glaciers may be on their way out, but some things [besides Congress] still move at a glacial pace.
A few years back, Raivo Puusemp, one of Nathan Rafferty's predecessors as president of Ski Utah, told this reporter about the Utah Ski Interconnect, a plan to link Park City with Brighton, Solitude, Alta and Snowbird.
"Nationwide, this is the biggest thing in skiing since the first chairlift at Sun Valley," Puusemp said with a touch of hyperbole. "Everybody is jumping on it."
Actually, it was more than a few years back. It was the fall of 1982. And the concept wasn't new even then. It had been kicked around since the early days of Treasure Mountains, now Park City Mountain Resort.
In October 1988, SKI Magazine revisited the Interconnect proposal.
"The ambitious Interconnect plan is currently on hold in the wake of Salt Lake County's decision to formulate a master plan to decide the future of the seven canyons which make up the Wasatch Front and hold most of Utah's famous ski resorts," the magazine reported.
The story continued with this quote from Ralph Becker of Bear West, the consulting firm hired to oversee the master-plan process: "The Interconnect, ski traffic, ski area expansion and whether or not to pursue an Olympic bid are all major areas of concern."
Becker is now the mayor of Salt Lake City and the Olympics have come and gone. But, as for those other issues, well, isn't that what Mountain Accord is still talking about now?
Puusemp's plan included only one local mountain, Park City Mountain Resort, then known as Park City Ski Area.
Canyons Resort, then known as ParkWest, was considered too small and too isolated to deserve inclusion. And the ownership of Deer Valley, in just its second year of operation, was being deliberately noncommittal.
"I think the concept is just great," said John Miiller, then executive vice president of Deer Valley. "But there are a lot of unanswered questions about Ski Interconnect. There's ownership of land, and who's going to build what, and how the ticket system works, and so on and so forth."
[Reporter's note: Yes, there are two "i"s in Miiller and two "u"s in Puusemp, which might have caused spell check to crash had there been such a thing in 1982.]
Miiller didn't mention snowboards back then, because they weren't an issue. In 1982 only one U.S. resort Vermont's Suicide Six allowed Jake Burton's new gadget on its slopes, according to www.burton.com. But they're an issue now, with Alta and Deer Valley among three U.S. resorts that still keep boarders on the sidelines.
Bob Wheaton, now the president and general manager at Deer Valley, said One Wasatch already has a template for settling the snowboard issue. He pointed that Alta and Snowbird already sell an "AltaBird" pass that's honored at both resorts only if you're on skis. If you're on a snowboard, you stay at Snowbird.
"They already have that figured out and have been doing that for a number of years now," he said.
And, Wheaton added, several issues ticketing, for example — have been resolved in the intervening years.
"I think it (ONE Wasatch) is feasible in a shorter time than people think because some of the issues have been thought through already," he said.
In last week's appearance at the Summit County Council meeting, Rafferty noted that the resorts aren't as far apart physically as they once were.
"They've really grown in proximity, closer and closer together over the years, and I think that's a big reason why this concept is coming to fruition now."
For more about ONE Wasatch, check out David Hampshire's accompanying story, "Ski Utah puts its cards on the table."
http://www.parkrecord.com/park_city-news/ci_26500399/utah-ski-interconnect-revisited