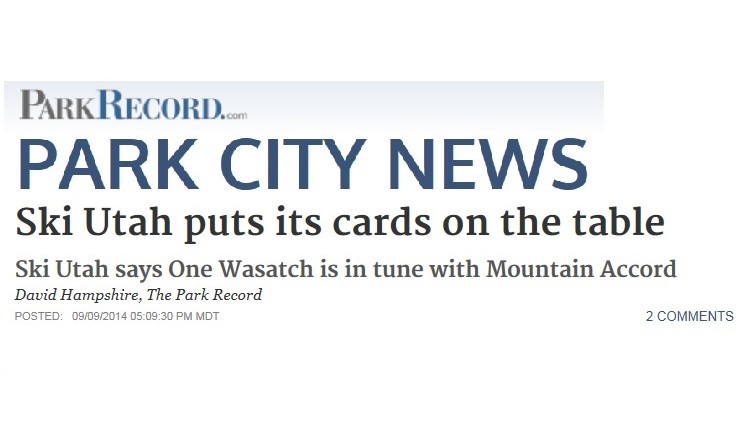 Ski Utah says ONE Wasatch is in tune with Mountain Accord
David Hampshire, The Park Record
Posted:   09/09/2014 05:09:30 PM MDT
On one hand there's Mountain Accord, an effort by various entities to chart the future of the Wasatch Range, with a focus on the environment, recreation, transportation and the economy.
On the other hand there's One Wasatch, a proposal by a ski industry group to connect seven Wasatch Front ski resorts into one huge alpine playground with 100 chairlifts and more than 700 runs on 18,000 skiable acres.
So is One Wasatch an attempt to preempt the Mountain Accord planning process,
as the Utah Chapter of the Sierra Club charged in a recent online newsletter?
Nathan Rafferty, president of Ski Utah, which represents 14 Utah alpine resorts, defended the timing of the One Wasatch "concept" (his word) last week in a meeting of the Summit County Council at Kimball Junction.
"I think One Wasatch — when you really start putting lines on a map and understanding who wants to be where and how many people we can allow in one spot or another — they (Mountain Accord) needed to know the full story about what the resorts want to do and what their future expansion plans are," Rafferty said in response to a question from Council Chairman Chris Robinson.
"And if you're going to put any kind of transportation solution into and out of these mountains, it makes sense to know where the ski runs might go."
However, Rafferty was careful to point out that One Wasatch is not designed as a transportation solution. "This is a ski experience. (But) I think there are transportation efficiencies, for sure.
Originally unveiled at a March 19, 2014, press conference in Salt Lake City, One Wasatch proposes to link Canyons, Park City Mountain Resort, Deer Valley, Brighton, Solitude, Alta and Snowbird with six strategically placed lifts. Rafferty noted last week that general managers from all seven resorts were present at that meeting.
"I think we do a really, really good job of cooperating between the ski areas. And I say that, and it's kind of ironic to say that today and this week with what's going on with Park City and Canyons. But outside of the courtroom and what goes on there, our GMs all sit together at our board meetings."
Rafferty said after last week's meeting that One Wasatch has no connection with the SkiLink proposal to build a lift between Solitude and Canyons.
"What makes this different is that this would connect the Park City area to Big and Little Cottonwood Canyon, but it would be on private land, which is a very different deal than SkiLink, which was on public land," he said.
Linking the seven Utah resorts would create the largest ski area in North America, Rafferty told the county council.
"The next largest in North America is Whistler/Blackcomb (in British Columbia) those are two ski areas that were merged and they ski 8,000 acres between the two," he said.
"As big as that is in North America, it's really not much compared to Europe. The Trois Vallées in France is over 55,000 acres. Again, it's tough to make an apples-to-apples comparison because they measure their skiing a little bit differently But this would be as close to kind of a European ski experience."
According to Ski Utah statistics, skiers and snowboarders spend about $1.3 billion in the state each year, of which about $1.1 billion comes from out-of-state visitors. He portrayed the One Wasatch concept as a way to help Utah keep pace with its three major competitors in alpine skiing: Colorado, California and Vermont.
County Manager Bob Jasper wondered whether Sundance Resort is too far away to be a part of One Wasatch.
"Yeah, right now," Rafferty said. "It would be a long, expensive lift. And I'm not speaking for Sundance, but they've got a really nice brand, and I'm not sure they want to throw a line out our way yet."
Robinson said Ski Utah has done an excellent job of getting its wish list out on the table.
"I think it's an example of Ski Utah knowing what it wants," he said. "Does Summit County know what it wants? Does Park City know what it wants? You guys have figured it out and you're ahead of the game. We're trying to figure it out as to what's right for us, for the communities."
For more about One Wasatch, check out David Hampshire's accompanying story, "Utah ski interconnect revisited."
http://www.parkrecord.com/park_city-news/ci_26500400/ski-utah-puts-its-cards-table